What better way to say goodbye to a great year than to work on two more items for my blog?! Earlier today Rick and I decided to start the day off with a hike. We did this last year on New Year's Eve as well and thought it was a fun tradition to start. We decided to hike another train in the Mission Trails Regional Park-- Mesa Road. It wasn't as hard as the last hike we went on, but was still listed as a category 4 "challenging". It was a beautiful day for a hike, nice and cool weather still, but plenty of sunshine too. According to the website the hike is 2.2 miles one way. Some of the highlights of the trail were the pretty stream surrounded by rocks, and the "tunnel" that the vegetation formed.
After our hike we were off to lunch at Bud's Louisiana Cafe. I found this place on www.yelp.com and after reading all of the rave reviews I decided that this was the next place I wanted to eat at for my project. The first test was the sweet tea. It was sooo good! We knew that we were in for a treat. We ordered an appetizer of shrimp bourbon st- One dozen shrimp lightly coated with cornflour and cornmeal and flash fried, served with an orange marmalade horseradish dipping sauce. As well as our entree's...Grilled Chicken Po'Boy (Rick's)-Chicken breast dusted with Creole seasoning and grilled. Served with lettuce, tomato, and Caesar dressing. And Crawfish Etouffee (mine)-Crawfish tail meat pan sauteed with garlic, butter, thyme, and basil and tossed in our sauce of onions, celery, green peppers, and a light tomato roux. The food was outstanding! Even the caesar salad that came with my meal was awesome! We were left feeling very full and happy and both agreed that this was the best new restauraunt we have tried in a very long time. The only downside was that it was *tiny* inside, which made it feel kind of awkward to talk above a whisper. But we did overhear that they will be moving into a new, larger location.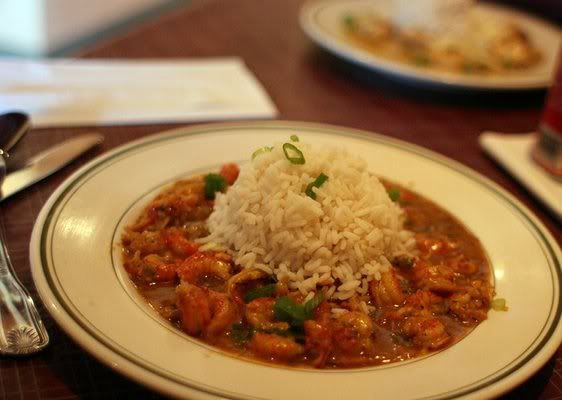 All in all a great end to a GREAT year! See everyone in 2010!!!