Saturday, March 6, 2010
I've never made any type of "bread" from scratch before. But I've "seen" a lot of friends make this via their facebook updates, and I also saw some new fiber one muffins that were this flavor. So of course I had to reference my favorite website for recipes (www.allrecipes.com), I looked through all the possible ones, read all the reviews and found the perfect recipe.
Obviously it's a little more time consuming making something like this from scratch versus opening up a mix, but it was so worth the effort. And in reality the thing that took the longest was waiting for the bananas I bought to ripen up enough. Figures that when I want them to turn brown and gross they take there sweet time. Even though I bought bananas over a week ago and they were already yellow! Geesh!
I did make some minor modifications to make it somewhat healthier. I used butter instead of shortening, and miracle whip instead of mayo. I was hesitant to use the walnuts since I'm not a big nut person, but at the suggestion of a friend I chopped them up very fine in the food processor (she said the nuts are necessary to keep the bread moist). The final product is incredibly delicious, extremely moist, and sweet without being overly sweet.
Ingredients
1 cup shortening
2 cups white sugar
2 eggs
2 tablespoons mayonnaise
6 very ripe bananas, mashed
3 cups all-purpose flour
1/2 teaspoon salt
1 teaspoon baking powder
2 teaspoons baking soda
1 cup semi-sweet chocolate chips
1/2 cup chopped walnuts
Directions
Preheat oven to 350 degrees F (175 degrees C). Lightly grease two 9x5 inch loaf pans.

In a large bowl, cream together the shortening and sugar until light and fluffy. Stir in the eggs one at a time, beating well with each addition. Stir in the mayonnaise and bananas. Stir together the flour, salt, baking powder and baking soda. Blend the flour mixture into the banana mixture; stir just enough to evenly combine. Fold in the chocolate chips and walnuts.

Bake at 350 degrees F (175 degrees C) until a toothpick inserted into the center of the loaf comes out clean, about 50 to 75 minutes. Cool loaf in the pan for 20 minutes before removing to a wire rack to cool completely.
Amount Per Serving
(original recipe) Calories: 327 | Total Fat: 14.6g | Cholesterol: 22mg
Posted by

Celeste
at 3:40 PM
1 comment:

Wednesday, March 3, 2010
lead to a fun afternoon with my hubby and a wonderful way to celebrate our 10 month wedding anniversary. We also decided to take advantage of that time together on a work day to do activities that would count towards my blog (and for Rick's Spanish class --he has to do 3 cultural activities.) I love opportunities to knock out multiple things at once.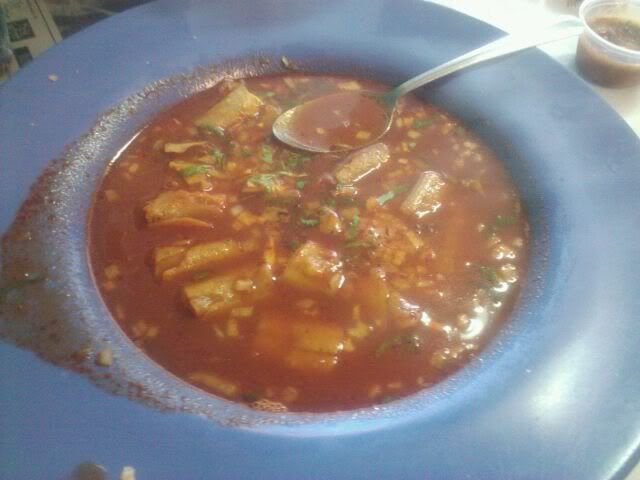 I'm a big fan of Bobby Flay and I love his throwdown show on food network. So when I heard a commercial on the radio for Mama Testa's I was sold. Apparently Bobby Flay challenged the owner to a fish taco throwdown. I never saw that episode, so I don't know the outcome--but still Bobby Flay was there :) So we made it our mission to find it, took the risk of parking in a McDonald's parking lot as there were no open spaces and made our way inside. I gotta say we weren't overly impressed. The website gave the feel of a restaurant, while the place was more like a taco shop. I struggled with that and feel that Mama Testa's may have some sort of identity crisis going on. The chalk board menu was really hard to read and neither Rick or I could find the fish tacos. Darn it! That was the whole reason we went. So Rick had some carne asada tacos, and I had this dish that had rolled tacos swimming in a bowl of broth. It was good, but nothing to write home about. We left there filling full, but not satisfied. We haven't had much luck as of yet trying new restaurants for the project but I'm hoping that will change.
After that we made our way to San Diego Mission de Alcala. It is the first and oldest of the CA missions. And even though we do mission projects in the 4th grade out here I had never been (I had a different mission for my project though). You enter the ground through the gift shop where they ask for a suggested donation. It's a very fair price to pay for a couple of hours enjoyment. It was so much fun walking around the grounds with Rick. He read the guide and summarized all the important things for me. Then we walked and admired the architecture, the beauty, and the history that the missions played in CA and Catholicism (really even in Christianity). When I see a piece of history like that I just can't help being overwhelmed. I think it's such a cool and humbling feeling.
Posted by

Celeste
at 5:06 PM
No comments: