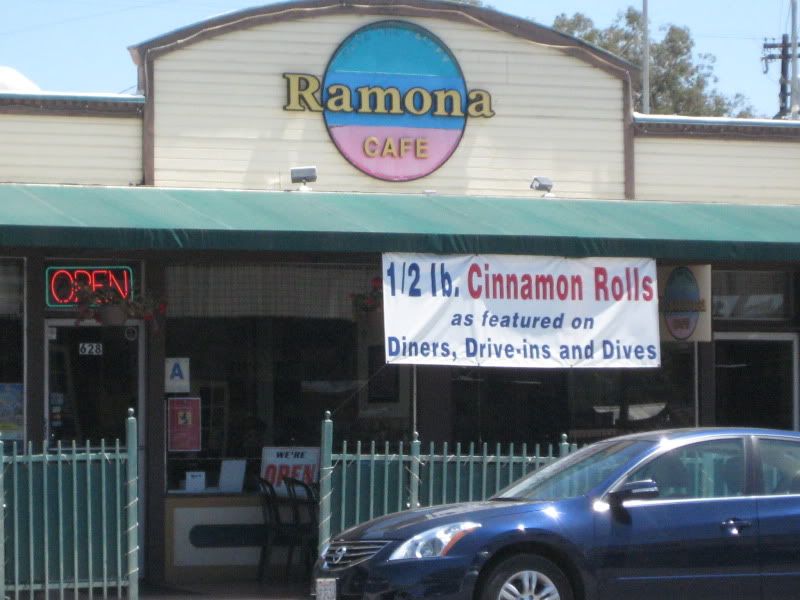 It's been a while since we've been able to go and try a new restaurant for my blog. In reality it's been pretty hard in general to find the time to work on anything for my blog. Being a Stay at Home mommy is definitely a Full time job. And it's probably one of the hardest, yet most rewarding things I've ever done. Logan is now to the point where we're able to take him out on adventures and know that we can confidently handle him should he start to get fussy. Which is really nice because I'm no longer terrified to take him out to eat. hehe.
So we packed up the diaper bag and made the trek to Ramona to try this little diner we saw on the food networks Triple D. Although I've lived out here my whole life, I've never ventured to Ramona. You almost don't even feel like you're in CA anymore, it feels like a sleepy little country town.
My menu options were pretty limited as I'm still dairy free, so I decided to go with a french dip sandwich and fries, while Rick went with a baja steak salad. Our food was yummy and satisfying (although I would have REALLY liked to try the cinnamon roll--next time) and the service was incredibly friendly. Rick actually forgot his hat inside and the waitress ran after us when we were already outside to give it to us. Very impressive. Although it was a bit of a drive we both felt it was well worth it (glad we didn't listen to the negative yelp reviews). I can definitely see us going back sometime soon so that we can try the fried chicken and cinnamon rolls which is what were featured on Triple D.